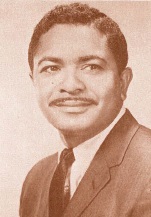 Former Lt. Governor Merv Dymally died in Los Angeles yesterday.
Dymally, who was first elected in 1962, saw the legislature move from part-time to full-time in 1966 and returned in 2002 to serve for six years in the term-limited era.
He also served as Lt. Governor during Jerry Brown's first administration and as a Member of Congress in the 1980s.
His service lasted so long that, when the Legislative Black Caucus designed a poster in 2007 that included photos of all of the African-Americans who had served in the legislature, Dymally was accidentally included twice.