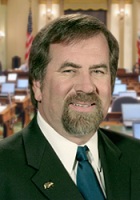 State Senator Doug La Malfa, a candidate for Congress in November, announced today that he would resign from the state legislature at the end of tonight's session.
His early departure allows for the consolidation of the Special Election with the General Election, saving counties millions of dollars on voter guide and ballot printing costs, as well as the expense of opening polling places in the 12 northern counties in his district.
If no candidate receives 50% of the vote in the November election, the top two candidates will face eachother in a run-off on January 8th.