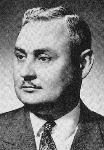 Legislators are people, a commonsense fact that seems to be forgotten all too often. They have moments of triumph, and moments of failure. Monday marks what would have been the 109th birthday of Assemblyman Howard K. Cramer, a 1940s legislator who made the right decision when faced with a difficult situation.
In the late 1940s, the pay for state legislators had remained low (reflecting the part-time nature of the Legislature in those years), but the time that legislators were expected to spend in Sacramento had begun to grow quickly. While legislators a decade before (in the 1937-38 Session) had spent a total of 114 days in Sacramento during the two year session, by 1947-48 the total had grown to 172 days.
Cramer, who had served in the Navy in WWII, was elected to his first term as a Republican in 1946. Arriving in Sacramento, he gradually realized that his salary as a legislator was just not paying the bills. On May 28, 1949, Cramer resigned from the Assembly "to avoid going bankrupt 'or selling my integrity". In his letter of resignation, he noted that "I regret that circumstances make it impossible for me to continue to serve the people of my district and State in the Legislature, but the salary which I receive as a legislator is insufficient to warrant my maintaining a home in Sacramento…" His seat would remain vacant for the rest of the term.
Another legislator faced with similar tight finances, Delbert Morris, arrived at a different conclusion. Morris, also a Republican and also a Navy veteran, arrived in Sacramento about a year after Cramer (winning a special election in 1947). In 1953, his wife died suddenly of polio, and one of his young daughters was hospitalized. Struggling to pay the mounting bills, Morris turned to graft. Morris was convicted in 1956 of selling liquor licenses, and became the first legislator to resign while in prison on February 29, 1956. He spent a total of two years as State Prisoner #A33095 and was pardoned by Governor Pat Brown in 1961. Finding little financial success in his private life, Morris ran for Assembly again 1968. He lost in the primary.
Unfortunately, because the "bad boys" make for better headlines, it's easy to lose sight of the quiet heroes who come to Sacramento, represent their constituents while carefully protecting their integrity, and return home with honor. For those individuals, we should give thanks.