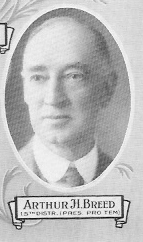 As anyone who visits Wikipedia can tell you, Gavin Newsom is the 49th Lieutenant Governor of California. What few people know is that the count of Lt. Governors is off by one, and that Newsom is actually Lt. Governor #50.
As we reviewed in a recent article, there have been five different ways to assume the office of Lieutenant Governor (including three which are still available today).
Arthur H. Breed, Sr.was the longest-serving President pro Tem of the California State Senate, serving 17 years from January 8, 1917 to September 15, 1934. One interesting note is that he authored the bill the created the DMV and required the licensing of automobile drivers.
During his 17 years as President pro Tem, the office of Lt. Governor became vacant on two occasions; March 15, 1917 to January 7, 1919 and June 7, 1934 to January 8, 1935. It's important to note that Breed was not acting Lieutenant Governor for those whole periods. Because Breed was Lieutenant Governor by virtue of his being an officer of the Senate, he only served as President pro Tem during the time that the legislature was in session. This means that his total tenure as Lieutenant Governor (54 days) was broken into three short terms;
March 15 – April 27, 1917 [45 days] (between the resignation of William D. Stephens and the end of the 42nd Legislature.
January 6 – 7, 1919 [1 day] (between the start of session for the 43rd Legislature and the inauguration of C. C. Young (following his election in November 1918).
September 12 – 15, 1934 [4 days] (for the duration of the 1st Extraordinary Session of the 50th Legislature. Lt. Governor Frank F. Merriam had become Governor in January, 1934).
Together, Breed served as acting Lieutenant Governor for a total of 50 days. His service was not the only to last less than a year (seven other Lt. Governors served terms of less than 300 days) and was also not the shortest. In 1860, John G. Downey served for only 5 days before resigning to become Governor.
Interestingly, Breed has been left off the official list of Lt. Governors for nearly 90 years. Research by the JoinCalifornia.com team is continuing, and we hope to either find out why Breed was excluded or correct this omission if no reason is found.
Updated: August 27, 2011
Research uncovered a 1916 Los Angeles Times article that notes that "State Senator Arthur H. Breed… admitted to friends in this city today that he would be made president of the Senate when the forty-second session organized early next January… Senator Breed, if elected to the position he seeks, will rank as Lieutenat Governor."
Source: "May Select Breed Head of Senate" by Direct Wire Exclusive Dispatch, Los Angeles Times (November 24, 1916), p. I4