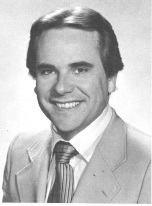 An age in California's political history is ending. One of the longest-serving elected officials in state history will be leaving office shortly after New Years, drawing to a close a career that started during the Nixon Administration. In California history, thirty-five people have served in the Legislature for more than a quarter-century, and only five are still living. Lockyer is the only one still in elected office.
Lockyer won a seat on the San Leandro School District Board in 1964, and by 1973 was the Chair of the Alameda County Democratic Central Committee and an Administrative Assistant to Assemblyman Robert W. Crown.
Late on the night of May 20, 1973, Crown was hit and killed by a car while jogging through a crosswalk. According to an LA Times article;
ASSEMBLYMAN CROWN KILLED WHILE JOGGING

ALAMEDA (UPI) – Assemblyman Robert Crown (D-Alameda), a physical fitness buff and 17-year veteran of the California Legislature, died early today of injuries suffered when he was hit by a car while jogging…
One auto halted at the intersection and another, driven by Charles E. Shuler Jr., 41, Alameda, apparently went around the stopped vehicle and hit the legislator, police said.
Los Angeles Times, May 21, 1973; pg 3
Lockyer filed as a candidate in the special election, and won with nearly two-thirds of the vote. He served for eight years before being elected to the State Senate in 1982. Served as President pro Tempore, California State Senate from 1994 until he termed out in 1998. During his 26 years in the Legislature, his tenure overlapped with those of nearly 300 legislators, from Randy Collier and Ralph Dills (first elected in the 1930s) to Bob Hertzberg and Jim Nielsen (still serving today).
What makes Lockyer stand out is that he is the last of the long-term legislators to leave state office. The thing about long-term legislators is that they see farther into the future when considering legislation, as hopefully the new 12-year members will. They're also less likely to fall for the tricks that tend to snare newer members ("What's the big deal about accepting a campaign contribution inside the Capitol, anyways?"). Lockyer has seen what happens when the wrong corners get cut, and it made him cautious. Lockyer's caution made him reliable, and his reliability made him appealing to voters who were looking for a little stability to counterbalance their more eccentric votes (like a movie-star Governor). In his final election, Lockyer received more votes than any other state elected official in state history except Jesse Unruh.
Now, as Lockyer leaves office, his final replacement will be John Chiang, who was two years old when Lockyer won his first election. There's something to think about.