Thursday marks the 160th anniversary of the most important duels in California history. Unlike the Terry-Broderick Duel (the cause of which was more a personal dispute), the Denver-Gilbert Duel was strictly political.

The two combatants, State Senator James W. Denver and former Congressman Edward Gilbert, were two well-known figures at the time. Gilbert had been a delegate to the 1849 Constitutional Convention and later founded the Alta California, one of the biggest newspapers in early California. Denver, his opponent, would later become California Secretary of State and Governor of the Kansas Territory. The city of Denver, Colorado was founded during his administration and was named for him.
The Dispute
In the aftermath of the Donner Party disaster (which Assemblyman James Breen survived as a baby), Governor John Bigler arranged that a gift be given to the survivors to help them get back on their feet. Gilbert wrote an editorial critical of Bigler, in which he suggested that the gift was a political stunt designed to raise his own popularity. Denver, as a political ally of Bigler, denounced Gilbert harshly. Gilbert responded by challenging Denver to the duel.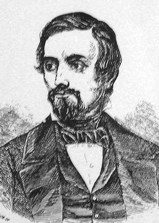 Now here's where it gets a little rough. It seems that Gilbert was an intellectual; he was a great journalist and gifted in the art of debate. But he wasn't really one of those rough that many of us picture when we think about the Wild West… but Denver was. A veteran of the Mexican-American War (and later the Civil War), Denver was born to fight.
The Location
The weapon chosen for the duel were rifles at thirty paces, and the time and place were set a few yards away from an inn that has variously been recorded as "The Oaks" or the "Oak Grove House" and whose location has been mostly lost to time. What's clear is that The Oaks was located north of Sacramento on the road to Auburn (now called Auburn Boulevard). The book History of Sacramento County, California by William Willis notes that the Oaks was located "about seven miles from Sacramento."
A report by the State Parks Department that leaned heavily on a book by Leonard M. Davis noted that several "inns or way stations developed along the Auburn Road. Between the Oak Grove House at what is now Del Paso Park in Sacramento and the Placer County line, stood the Twelve Mile House, the Fourteen, Fifteen, Sixteen, and Seventeen Mile Houses…"
Fortunately, at least one of these sites is known; the Twelve Mile House is located at Devecchi Avenue in Citrus Heights. A five mile drive down Auburn Boulevard towards Sacramento does indeed put you in the approximate neighborhood of Del Paso Park. It's probably not realistic to expect to find the exact location of the duel, but the duel probably happened somewhere between of Hole 1 at the Haggin Oaks Golf Course and the northeast corner of the Mel Rapton Honda dealership.