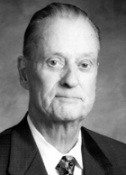 Former State Senator Dan Boatwright died Friday at his home in Clayton, the Sacramento Bee reported Saturday.
Boatwright served in the Assembly from 1973-1980 and in the Senate from 1981-1996. During a 2009 interview, Boatwright had noted that he was the only legislator to sit as chair of every fiscal committee in both houses of the Legislature. In today's legislature, fiscal issues are divided between the Budget and Appropriations committees. In his time, the power was combined in a single Ways and Means Committee that held a great day of power.
He is survived by his wife Teresa and sons Dan, David, and Donald.