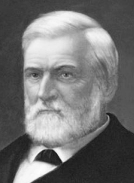 It only arrives every four years, but the unique date of February 29th has played an interesting role in California politics over the years. Governor Washington Bartlett and Assemblyman William T. Coleman were both "leaplings", born on February 29, 1824. They were both members of the Committee on Vigilance during San Francisco's lawless days during the Gold Rush. Bartlett would also serve as Mayor of San Francisco in the 1880s. Other legislators born on Leap Days were Assemblyman Gordon A. Fleury (1916) and Ken Maddox (1964).
Assembly Speaker Paul Peek resigned on that date in 1940, and Assemblyman Delbert Morris resigned on that date in 1956. Peek resigned in order to be appointed Secretary of State (an office he held for two years) while Morris resigned in a prison cell after being convicted of bribery and graft charges. Peek would later serve as a California Supreme Court Justice becoming "the only Californian to serve as a top-level official in the legislative, executive and judicial branches of government.") while Morris would spend two years in prison, followed by an eventual pardon by Governor Pat Brown in 1961.
As far as I could tell from my research, only one legislator has ever died on a leap day; State Senator William W. Pendegast in 1876. Pendegast, a brilliant attorney, is best remembered for successfully defending the famous photographer Eadweard Muybridge against charges that he had murdered his wife's lover. Muybridge had definitely committed the murder, but Pendegast was just that good an attorney.