In the first years of California statehood, the number of individuals who served in the state legislature was huge. With shorter sessions (one-year Assembly terms and two-year Senate terms) and very few legislators who served multiple terms, each decade saw hundreds of new lawmakers rather than the 120-150 that we've seen in recent years.
For nearly a year, I've been working on tracking down the missing biographic information for early state legislators. Very few details were kept, usually just their name (frequently with abbreviated first names), counties represented, and political party affiliation. The lack of details makes it hard to find them after leaving office, but even minimal details (like full name, birth and death dates, and birthplace) makes it easier to find obituaries and census information.
Although new information is added regularly, it's fairly rare to find information that changes the actual number of legislators. Most recently, it was in May 2019 that a spelling error (made over a century ago) was found to have resulted in Assemblyman R. H. Myers being counted twice with slightly different spellings of his name.
Research in recent weeks has uncovered another interesting corrections to the list of State Senators.
Robert Desty
There were a number of historic sources that would seem to indicate that Robert Desty served in the Senate. The list of legislators published in the California Blue Book has included Desty as a Senator since it was first published in 1891. At the same time, it does not include any other people who were elected to the legislature but never served (you can find the list of known examples here).
In the Senate Journal, the official record of the events that take place in the Senate, Page 1 for the 1880 Session explains the start of the session as;
"The Secretary [of the Senate] was then directed to call the roll of the Senators elect, and the following Senators responded…
[including]
Eight District – San Francisco and San Mateo…. Robert Desty"
[and continued]
"The Senators elect now took and subscribed to the oath of office, administered by the President of the Senate…"

Journal of the Twenty-third Session of the Senate of the State of California (pp. 1-2)
According to this section, it definitely appeared that after being elected, Desty had appeared and been sworn in. But that's not exactly what happened.
Page 4 of the Senate Journal has the first indication that something is wrong, continuing to refer to Desty as "Senator elect" and not recording him as having cast any votes during his first days in office… It's because he was in New York.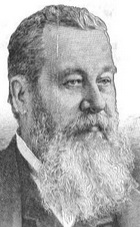 Desty, whose full name was Robert Daillebout d'Estimauville de Beaumauchal, was born in Canada and moved to the United States as a young man and and applied for citizenship in New York at age 22. After receiving notice from a court that his citizenship application had been accepted, he began his new life as an American citizen. In 1880, Desty ran for the California State Senate and won.
Immediately after the election, allegations were made that Desty had not completed the naturalization process and wasn't actually a citizen. Soon after the 1879 election, Desty returned to New York and found that although he had filed a petition to become a citizen in 1849 (and received a certificate recognizing his application), he never formally became a citizen in New York at that time.
Desty returned to California and claimed to have been naturalized in San Francisco (but that the records were destroyed in an 1850 fire) and petitioned to have his citizenship take place retroactively. The petition was declined, and he immediately renewed his application for citizenship. Desty became a U.S. citizen on February 24, 1880.
A week after he became a citizen, the San Francisco Election Commission ruled that because he hadn't been a citizen when he registered to vote, the application was retroactively denied and ordered that Desty's name be "stricken from the Great Register" of voters. Within a week of that, on March 5th, the Senate Committee on Elections reported that Desty was not entitled to the seat claimed by him because he hadn't become a citizen until February 24th. The committee report was approved by the full Senate on a 23-14 vote, disqualifying him as a Senator, and officially vacating his seat.
What apparently caused confusion for nearly thirteen decades was that the Senate Journal appeared to show Desty being sworn into office, but that he was never sworn in prior to having his certificate of election rejected by the Senate on February 25th.
Unlike the nine people who were elected to office but died before assuming office or the five who declined to serve, Desty was treated by historians as a Senator who was elected, did not decline to service, and did everything he could to assume office for two months before eventually being denied his office. That's why, even though he never actually assumed office, he has held a place on the list of California legislators for 130 years.