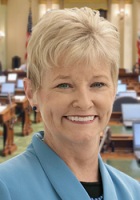 In Tuesday night's election, Sharon Runner easily won reelection to the State Senate, becoming only the third person to serve non-consecutive terms in the Senate in the past 50 years. Most recently, Jim Nielsen returned to the Senate in 2013 after a 23 year absence. Before then, John Holmdahl was reelected to the Senate in 1970 after a four year gap. Runner is believed to be the first person to arrive in the Senate twice through special elections.
In Senate District 37, John M. W. Moorlach defeated three other candidates to win election outright in the Primary. In winning, Moorlach defeated incumbent Assemblyman Don Wagner, a widely popular legislator who had (at least at the Capitol) been widely been expected to win. Moorlach becomes the first native of the Netherlands to serve in the Legislature since Assemblyman Fred Chel lost his reelection in 1978. He's also the third person to move from the five-member Orange County Board of Supervisors to the State Senate in the past three months (joining Senators Patricia Bates and Janet Nguyen).
Upon his inauguration, Moorlach will be the 4,421st person to serve in the California State Legislature and the 1,160th to serve in the State Senate. Sharon Runner was the 1,133th to serve in the State Senate.