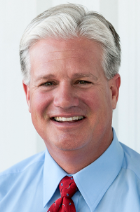 With the Secretary of State's certification of the results in the SD-16 Special Election, Andy Vidak has officially been elected to the State Senate. Vidak expected to be sworn into the State Senate next weekend on the steps of the Hanford Civic Center. In honor of our latest Senator, I'd like to present some legislative "fun facts":
Andy Vidak becomes the 1,147th person to serve in the State Senate.
He is the 4,387th person to serve in the California Legislature.
VIS-ALIENS
Vidak is the first person born in Visalia to serve in the Senate in more than a century. The last was E. O. Miller, who was elected to his first and only term in 1906.
LEGISLATIVE TENURE
Vidak will serve 478 days left in his current term. Under the new term limits law, he will be eligible for two more terms in the State Senate (for a total of about 3,400 days in office). This could potentially make him the fastest termed-out member under the new system. George Runner was the was the legislator who termed out fastest under the 1990 Term Limits law.
THE DISTRICT
Senate District 16 (the number moves around in every redistricting) has only elected three Republicans in the past 50 years.  Notable Republicans who  to Sacramento by the various 16th Senate Districts include Governor Newton Booth, U.S. Senator William F. Knowland, and Arthur H. Breed Sr. (California's longest-serving Senate President pro Tem).