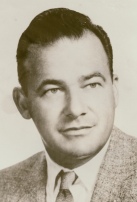 The Sacramento Bee is reporting that former Assemblyman Paul Lunardi died last Friday.
Lunardi served three terms in the Assembly before being elected to the Senate in a 1963 Special Election to replace Ronald G. Cameron. Lunardi would eventually serve in the Senate for five years.
Prior to his legislative service, Lunardi served on the Roseville City Council and played a critical role in that city during the era of rapid growth during the 1950s. According to the city history on the official Roseville city website;
"During the 1950s, one name stands out above all others on a list of exceptionally competent council members. That name is Paul J. Lunardi who served on the Council between 1950 and 1959, including two terms (1954 and 1958) as mayor."
Lunardi most recently visited the Senate Chambers in 2012, when he was presented with a resolution by Senator Ted Gaines.