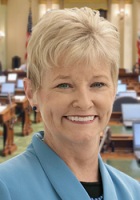 Senator Sharon Runner today became California's first state legislator with a lung transplant. Runner had been on an organ recipient list for more than a year. When Runner returns to the Senate, she will join Senator Tom Berryhill, who was the first heart-transplant survivor to serve in California's state legislature.
Although lung transplants are uncommon, there have been a number of officeholders nationally who have received the surgery. Congressman Floyd Spence (R-South Carolina) had a double-lung transplant in May of 1988 and Charlie Norwood (R-Georgia) had a single lung transplant in 2004.
We wish Runner a fast and easy recovery.
LINK: SacBee Article