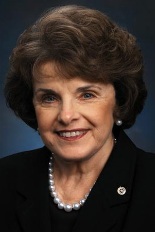 As of Sunday, Dianne Feinstein will have served two full decades as a U.S. Senator.
She is the third longest-serving Senator in California history (after Hiram Johnson, Alan Cranston, and George C. Perkins), and at the end of her next term will rank just behind Johnson. Feinstein is also currently the third longest-serving female Senator is U.S. history.
After serving as Mayor San Francisco for a decade following the assassination of George Moscone, Feinstein ran for Governor in 1990, losing to U.S. Senator Pete Wilson (whose seat she would eventually assume). After resigning from the Senate to become Governor, Wilson appointed John Seymour to fill the U.S. Senate seat until a special election was held.
The eventual special election came almost two years later, in November 1992. Seymour ran for another term, and faced a strong challenge by Feinstein, who won easily with 54% in a five-way race. Because it was a special election, Feinstein took office immediately, although she wasn't officially sworn into office for over a week.
Twenty years later, Feinstein is running for her fourth full term in the Senate. We'll know the results of that race in just a few days.