As I've noted before, interesting things come up occasionally while researching the biographies of the early California legislators. I find that the varied lives of the pioneers often make an interesting contrast with our contemporary legislators. Two of my favorites are Senator Elijah Hart (who was born in a covered wagon) and Attorney General W. H. H. Hart (no relation) who, at eight year old, was kidnapped by Native Americans and didn't see his family again for nearly a year.
Some prominent early California politicians had (ah, how to phrase this delicately)… interesting love lives. Assemblyman Abel Stearns, an early Los Angeles Mayor and County Supervisor, married his wife Arcadia when she was only 14 years old. Senate President pro Tem Charles J. Lansing married twice, and his two wives were sisters. Which brings us to the subject of this post…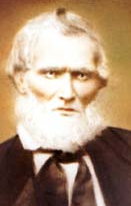 During some research last week, we stumbled on the story of Assemblyman Jefferson Hunt. Hunt was a fascinating person. In addition to being the first person to serve in the State Assembly for five consecutive years, Hunt authored the bill that created San Bernardino County. He was also the first openly poygamous legislator we've found. Hunt married his first wife, Celia Mounts, in 1823. Celia was an early convert to Mormonism and Hunt became closely acquainted with Joseph Smith (including service as Smith's bodyguard). In 1846, shortly after the death of Smith, Hunt was married to his second wife Matilda Nease.
In 1849, Hunt helped found the city of Provo, Utah. A year after that, Hunt had relocated to San Bernardino and was elected to his first term in the California State Assembly. Hunt returned to Utah and served in the territorial legislature there in 1863-1864. He died in Idaho in 1879.