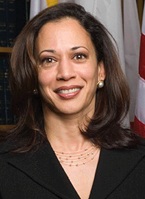 In the past week, speculation has exploded as U.S. Senator Barbara Boxer announced her retirement in 2016 and Attorney General Kamala Harris began her campaign. By Thursday, Harris had become the leading candidate (of two announced; Merv Evans has also announced his candidacy), with Sacramento Bee columnist Dan Walters asking "Does Kamala Harris have free ride to Senate?"
It seemed like a good time to take a peek at the history books.
For the record, it has happened only once before. James McDougall, California's first Attorney General (1850-1851) [and also the AG in Illinois in 1842-1846] was elected to the U.S. Senate in 1861. In the century and a half since, none have been successful.
Interestingly, two of California's Attorneys General had previously run unsuccessful campaigns for U.S. Senate (Fred N. Howser (elected AG in 1946 and lost for Senate in 1944) and Jerry Brown (elected AG in 2006 and lost for Senate in 1982).
Alternatively, one of our U.S. Senators, Aaron A. Sargent, won election to the Senate (1871) after having lost a campaign for Attorney General (1857).
In short, while not completely unprecedented, making the leap from Attorney General to Senator is not something that happens every day. Antonio Villaraigosa, another likely candidate, will probably take heart from the fact that three of California's last five U.S. Senators had experience as Mayors; Feinstein (San Francisco), Seymour (Anaheim), and Wilson (San Diego).