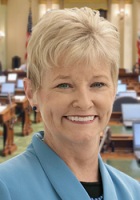 Since the November election, there has been significant talk about who might be seeking the three soon-to-be-vacant seats once State Senators Mark DeSaulnier, Steve Knight and Mimi Walters resign to become members of Congress.
On Friday, a former staffer to former State Senator Sharon Runner invited me to join a Facebook group titled "Draft Sharon Runner for Senate" that included a newspaper article from the Antelope Valley Press. If elected, Runner would be only the third Senator in the past 50 years to serve non-consecutive terms.
The article notes that there are a number of other potential candidates considering campaigns, which will start soon after the Knight resigns in early January.