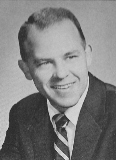 I received an email today informing me of the passing of Assemblyman William Arthur Munnell.
Munnell was born in Iowa on October 9, 1920. He served in the Army in World War II, and came to California after the war to attend the University of Southern California. He served in the Assembly from 1951 to 1961, and held several important offices within the house (including both Minority and Majority Leader). He resigned in 1961 to be appointed to the Los Angeles Superior Court (where he had a twenty-year career). Munnell died Friday in Reno.
Although I never met him, I was always impressed by Munnell. He was an active member of California's "Doomsday Committee", spending three years working on developing a plan to keep the candle of democracy lit in the aftermath of a global nuclear war. At the same time, he kept his humor. Even in the past few years, friends of his created a website noting that "Judge Bill Munnell Would Make a Great President!"
The man was, in my book, a legend. He was one of those people who brought distinction to the Legislature, and who the current generation of legislator should hope to be more like. Not to suggest that he was perfect (because few people are), but this guy served his state and nation very well.
He will be missed.