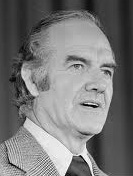 George McGovern, a two-time candidate for President, died today in Sioux Falls, South Dakota. He was 90.
McGovern served in both houses of Congress, starting as a member of the House of Representatives (1957-1961) and finishing with a nearly two-decade term in the Senate (1963-1981).
He was awarded the Presidential Medal of Freedom in 2000.